Career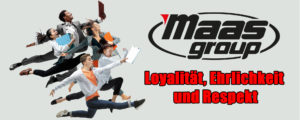 Welcome to our career page,
the maas group is regularly on the lookout for new, motivated staff in the various areas of the company. All important information about the maas group can be found here. The Company's products and services are also described on the website. Here you can find the latest news about the maas group. Follow trail master by maas also on Facebook.
About the maas group:
The maas group has been successfully active in the European off-road vehicle market since 1976. Decades of experience distinguish the family." As the largest 4×4 suspension system manufacturer in Europe, the company is constantly looking for new motivated personnel. The maas group offers you versatile tasks in a collegial and open-minded team, a secure workplace with a future that can be reached at a reasonable location. As a family business, the business climate is our top priority. That's why the maas group attaches great importance to finding someone with you who will optimally complete our existing team. If you have gasoline pumping through your vains, you're in the right place with the maas group.
How to apply:
You can apply directly on the website. It is important to summarize all important testimonials, supporting documents and recommendations in a pdf document. You can also apply to the company by e-mail. Simply send an e-mail with all the necessary documents to 'personal@maas-group.de'.
The maas group is part of the European off road market since 1976. The family company has got year-long experience. As the biggest 4×4 suspension system manufacturer we search for a Sales Manager in office at our company headquarter at Kamp-Lintfort. We offer divers task in a friendly and open team, a unlimited and sage […]